From time to time, a previously unknown branch of the family comes to light. This is the home of current conjecture about these discoveries. As such, it should be noted that this information will not necessarily be included in the database until it can be verified.
To allow other researchers to easily identify lines, I have cross-referenced each new discovery by location:
---
Earliest Hurwoods
The earliest Hurwood record comes from Wedmore in Somerset.  It is less than 15 kilometres from Blagden (see below).  The parish records show a number of marriages between 1564 and 1659:
17-Jun-1591 Hurwood Aliciam m. Pitte Gulielmus
11-May-1659    Hurwood Dorothy m. Pople John
23-Nov-1564    Hurwood Gulielmus m. Jeninges Johannam
08-Jul-1594    Hurwood Isabellam m. Broadripe Joannes
18-Oct-1607    Hurwood Janam m. Hedlonge Gulielmus
06-Jun-1594    Hurwood Johannam m. Popham Gulielmus
01-Apr-1611    Hurwood Robertus m. White Sarah
14-Jul-1625    Hurwoode Editham m. Quick Joannes
No records available show any connection between any of these Hurwoods or between these people and other Hurwoods recorded elsewhere at this time.
---
Somerset Hurwoods
Another disconnected branch of the family has been discovered in Somerset in England and is possibly the descendents of some of the Wedmore Hurwoods shown above. The family of Uriah and Charlotte Hurwood lived in both Blagden and Howley in Somerset in the early part of the 19th Century. Uriah was a labourer and was buried on 27 Apr 1845 in Blagden.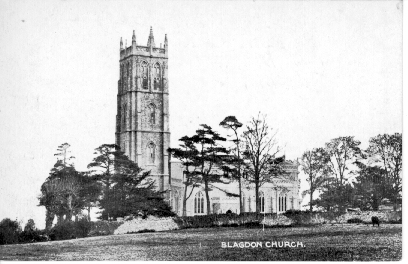 Blagdon Church, Somerset
Courtesy http://www.somerset.gov.uk/
Uriah and Charlotte had six children between 1827and 1837, four of which survived infancy. They were John, Matilda, Henry and Charles, the other two being another John and another Charles.
It seems that Uriah had a brother (or cousin) called Hugh who originally married Charlotte. Hugh was a baker in Blagden and his only recorded child, James was baptised on 22 Jan 1824. This is prior to the baptisms of all of the children of Uriah and Charlotte.
Also in the Somerset area were Robert and Dinah Hurwood, whose son William was baptised on Christmas Day 1795. Given this date, it is possible that Robert was Uriah's father or uncle, though this is hard to prove since, as yet, I have no location for Robert and Dinah.
---
Newcastle Hurwoods
Recorded in the Registers of South Shields St Hilda (1859-1868) is the marriage of James Hurwood to Jane Metcalf on 21 May 1866. This could be the same son of Hugh and Charlotte Hurwood. James could have relocated after the death(?) of his father or he could be an entirely different James, who maybe moved down the coast from Yorkshire.
It may be more likely that James is a nephew of Walton Hurwood (b 1834). Walton married Jane Glough in this same church in 1855. As all twelve of Walton's children have been accounted for and none are named James, it is likely that James is the son of one of Walton's brothers: most likely George or John.
This part of England is fast emerging as another major location for the Hurwood family.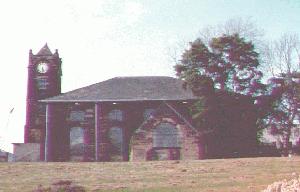 South Shields St Hilda
Photo from Durham pages on GENUKIl
Picture supplied by George Bell
More information can be obtained from the South Shields pages on the GENUKI Durham site.
---
London Hurwoods
Mary Hurwood-Trew has provided details of her family who haved lived in and around London for at least the whole of the 20th century. Her father William John Hurwood was born in 1908. The details of her grandparents are sketchy.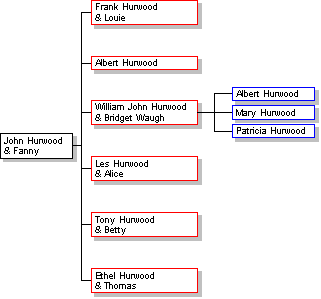 The only possible connection I have, given Mary's information, is that Tony could be Anthony, son of Albert Edward Hurwood and Fanny Whitley. No other siblings are known for Anthony and no spouse, but one child is recorded – a daughter, Margaret.
Information from Bruce Hurwood of Nova Scotia, Canada, gives details of his line descended from his great-grandfather Frederick Hurwood. Bruce is not sure when Frederick emmigrated to Canada.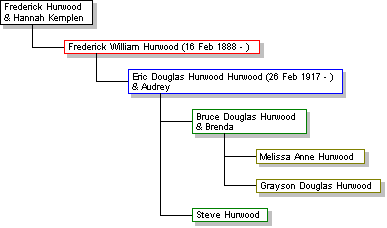 ---
If you are a member of these "lost tribes" or can provide a connection to those listed on this page, I would appreciate it if you could contact me.