There aren't that many Hurwoods to begin with, but a few have
made it into the public eye.
---
A bright spark…
(Quoted from the "Bright
Sparcs" database maintained by the University of Melbourne)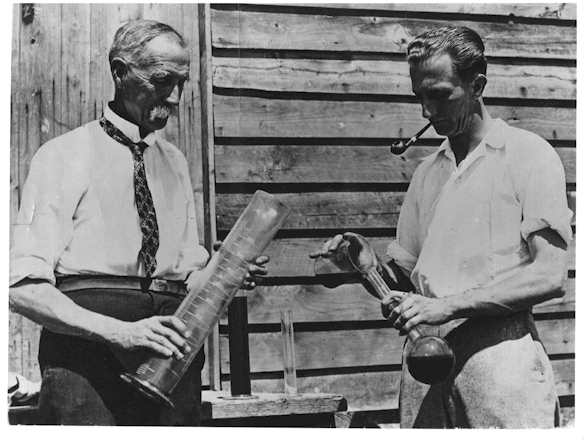 Alan Hurwood (right) distilling oil in Roma in 1927
Alan worked for the Queensland Government for 50 years, being Deputy
Government Analyst from 1946 and subsequently Deputy Director of the Government Chemical
Laboratory until his retirement in 1961. He distilled the first samples of oil found in
Australia at Roma in 1927 and was also associated with the initial work on eradication of
prickly pear and on blowfly strike in sheep.
---

For a family originally from Yorkshire, I
suppose we had to have at least one…
Cricketer (bowler), played for Queensland and Australia.
Alex played two tests for Australia, both against the West Indies
in the 1930-31 season. He was also a member of the 1930 Ashes Tour to England, playing
against a number of the county sides but not in any of the tests. Alex's test career
statistics can be seen at "The Baggy Green".
Alex played his club cricket with Valleys. His record at this
level included 350 wickets and almost 50 catches. To commemorate the first 100 years of
Brisbane Grade Cricket, a "Valley Team of the Century" was announced on 3rd
October 1997 including the following players:
Kepler Wessels
Matthew Hayden
Roy Levy
Allan Border (Captain)
Stuart Law
Leo O'Connor (w/k)
Jim Harten
Brett Henschell
Alex Hurwood
Malcom Francke
Col Cooke
Keith Dudgeon (12th man)
Also of note, Alex was the lead bowler used against Donald Bradman when Bradman scored his record 452 runs in the Sheffield Shield match between
Queensland and NSW in the 1929-30 season.
Alex took Bradman's wicket in the first innings from a catch by
Leeson for only 3 runs. In the second innings, Alex took 6 wickets for 179 runs off 34
overs with one maiden. He finished the match with total figures of 56 overs, 7 maidens, 10
wickets for 236 runs.
Family rumour says that Bradman, on retiring at the end of his
innings, said: "I would have scored a lot more if it wasn't for Hurwood".